Cancun Transfers
Cancun Airport Transportation Service
▶︎

Private Transfers from Cancun Airport
In Paradise Adventours, we can provide you with the best private transfer service from Cancun airport to your hotel.
Our staff will be waiting for you at the exit of Cancun Airport.
We're the transportation service #2 in the area, Trip Advisor certified.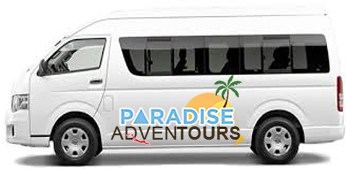 ▶︎

Any delay on your flight?
Don't worry, we're continuously tracking your flight in real time. Our driver will be waiting for you when you finally get to our sunny Cancun ☀️🏝.
▶︎

What else can we do for you?
We also can take care of all your transportation for any activity in the Riviera Maya. We can provide you an open service so you can visit any place and will be charged only for the time you used the Van (handsome driver included 👨🏻) .
▶︎

 What does your VANs look like?
Our transfers have A/C and are fully insured. Our transportation service is safe, comfortable and authorized by the Cancun Airport Authority.

Examples of our Top destinations : ⭐️⭐️⭐️⭐️⭐️
Cancun Airport ↔︎ Any Hotel in Cancun, Playa del Carmen, Tulum or Riviera Maya.
Other destinations for pribate tours:
Akumal  – Coba – Chichen Itza – Shopping – Tulum – Xcaret – Xel-Ha – Xplor
▶︎ And there's so much more we can do for you!
Thinking about a private tour or an excursion in the Riviera Maya? Swimming with turtles maybe🐢? Snorkeling? Or what about an extreme adventure in ATVs in the middle of the jungle?
Get in touch and we will get back to you shortly.
▶︎

Fill out the form below and we will contact you!